If you've been keeping up to date on all things CVSL over the past few days you would have undoubtedly noticed our very own 'Twig' anonymously journeying through the North West of England.
For such an expansive journey, a special car is needed. Step forward the Nissan Leaf.
Since Monday, the Twig has been pushing the brand new Leaf's electric range to the limits. Featuring a top speed of 87mph and a maximum range of 124 miles after full charge, this car is seemingly perfect for city living.
The Leaf has enough room inside to be considered a proper family car and while costing pennies to run, the electric car represents premium value for your money, especially if leased.
The car's performance is punchy, easy to drive and feels much faster than it's touted to be.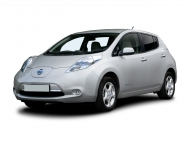 The suspension does a good job of absorbing all the bumps along your drive and another advantage of electric power, aside from a faint whirr when you pull away, you won't hear a peep from the motor.
Economically, the tailpipe emissions are zero so you won't pay any road tax and the car has scored the full five stars in crash tests conducted by the Euro NCAP.
Overall, the Leaf offers a smooth driving experience that is even more affordable if leased.
To experience your very own Nissan Leaf for unbeatable prices, visit the CVSL website for the all-latest offers: http://www.cvsl.co.uk/car-leasing/nissan/nissan-leaf-hatchback-acenta-acenta-5dr-auto/60549/
And make sure to follow the Twig across Facebook and Twitter as he tours Blackpool throughout today and the Peak District tomorrow!